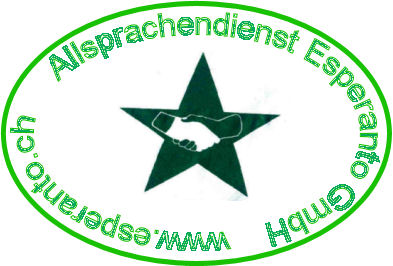 Deutsch ☻ German/ Franšais ☻ French / Esperanto / English / Italiano ☻ Italian / Spanish ☻ Espa˝ol
Allsprachendienst Esperanto GmbH
Esperanto, the language which links the world, would offer the simplest and most cost-effective solution to overcome world-wide language borders. Good solutions often have a hard time of it! So that your international correspondence does not have to wait until mankind has come to its senses, you can fall back on our translation services until the introduction of Esperanto or another world language.
We will translate your business correspondence, marriage documents, contracts, documents, instruction manuals, advertising texts, lectures, memoirs, love letters etc. in good quality and at attractive prices out of and into any language you wish.
Telephone translations/Information on spelling
Phone 0900 555 025
(CHF. 2.50/minute from theSwiss calbe net)
You will find us on the Internet at:
What does Allsprachendienst Esperanto GmbH have to offer?
Specialized translations into and out of all languages.
Our colleagues translate the texts in their own specialist field and into their mother tongue and have excellent knowledge of the source language. Any problems are discussed within the team. All translations are checked for accuracy and stylistic quality before delivery and revised again if necessary. These services, which we regard as standard, are included in our list prices!
Our satisfied clients include Swiss Federal authorities, cantonal and municipal authorities, companies from all sectors, advertising agencies, lawyers and numerous private individuals.
And: All clients enjoy preferential treatment with us, regardless of whether they come to us with a private letter of half a side or with a hundred-page handbook.
Other services:
Client glossary
At your request we will draw up your company-specific glossary for you at cost price. In this way you can ensure that certain key terms are always translated consistently.
Delivery by diskette or modem
As required, we can supply you with the translation on diskette, by modem or (for non-confidential texts) by E-mail at no extra cost.
Express translations
If it is urgent, we offer an express service for German, English, Esperanto, French, Italian and Spanish (and where possible also for other languages). You can contact us outside office hours on the info-phone number 0900 555 025 (CHF. 2.50/min. from the Swiss cable net) or by fax (01-261 04 79). The relevant rates are given on our price list.
Proof-reading/Revising/Drafting texts
We can undertake the correction and revision of your documents and can also advise you about drafting all types of letters and texts. Do you require a text for a speech? Do you wish to publish your life story? Do you need a ghost-writer?
Writing services
As required we will prepare fair copy of your letters, lectures, seminar papers, dissertations etc. on PC and in any language you choose.
Interpreting services
We provide you with interpreters for any language combinations and for work world-wide.
Certifications:
Certification by our bureau is recognised by all Swiss authorities and various foreign consulates. With supralegalisation by notary public and the state chancellery our documents are recognised by all authorities of all the countries which have signed the Hague Convention, as well as all foreign diplomatic agencies in Switzerland. If you do not know what formalities are required for a specific country, we will be happy to advise you.
Legal advice
We can advise you on the necessary formalities related to international legal problems, e.g. marriage, death, removal or divorce on our info-phone number 0900 555 025 (CHF 2.50/min - only from the Swiss cable net) and help you to procure specific documents for which we will naturally provide a certified translation where necessary.
Telephone translations/Information on spellings
Would you like to know a word or sentence quickly? Do you have a letter in a foreign language which you cannot understand? Do you require information on a German spelling or do you have a stylistic problem? We are available to help you on the telephone number 0900 555 025 at CHF 2.50/min. from the Swiss cable net (German, English, Esperanto, French, Italian, Spanish - only from Switzerland).
Publications
We have good contacts with graphic designers and printers and we are able to take care of the design and publication of your documents on request.
Your own book
We will undertake the production of your own book from stylistic revision, through proof-reading, graphic design and translation through to printing.
Deutsch ☻ German
/
Franšais

☻ French
/
Esperanto
/
English
/
Italiano

☻ Italian
/
Spanish ☻

Espa˝ol